Welcome to the end-of-the-month showcase of all the posts written for the Controversed writing workshop!
Thank you to everyone who joined me in "Controversing" by creating your own posts in response to each week's theme, as well as everyone who made the workshop a more welcoming place by dropping by with your comments.
A Brief Reflection
This is the first community project I've started on the blog, and I was hesitant about it for various reasons. As I've mentioned elsewhere, Controversed was designed in part to fulfill an assignment on delivering an information service to a specific user community, for a course in my MLIS program.
While I may have some background in literary criticism, it feels odd to be hosting a workshop on it for people who are my peers – many of whom are much more experienced and skillful bloggers than I am! I was often concerned about whether I sounded too authoritative, or if the prompts were too rigid.
It was quite a surprise to see actual enthusiasm in some of these topics, and I am so grateful for all the friendly support I received. Also, it would be arrogant of me to say that I didn't expect hosting a workshop on controversies would challenge my own opinions on things, but I was indeed surprised by the extent to which it happened.
Thank you again, and I hope you enjoyed this workshop as much as I did hosting it!
*Note on showcase format: entries are listed in order of submission.
Prompts:
What is a controversy in the (anime/manga/other) community that bothers you, and why?
What do you think of controversies? Do you consider yourself or your blog controversial to any degree?
Jon Spencer @ Jon Spencer Reviews, who graciously lent the November event slot on his Discord server to the Controversed workshop, started things off strong with an overview of his stance on and approach to controversies in the anime fandom. I would also like to thank him for making this post a timely promotion of the workshop!
When I started the opening post for Controversed with "elections, daylight saving hours, and Uzaki-chan figurines," I certainly didn't expect anyone to talk about at least two of those things, but K @ K at the Movies is a guy who dares to surprise. Check out his post on the 2020 US Elections; I shan't spoil it.
Can't have a Controversed showcase without Uzaki-chan discourse. Falcon @ Geekosaur approaches the subject of fandom controversies with a clear head and candid humour. The next time someone gets bored enough to argue with me over a petty difference in opinions, I will remember to ask them to do my dishes.
Aria @ The Animanga Spellbook briefly gives her thoughts on both of the weekly prompts, and hits on the important role that a lack of information plays in controversial exchanges. Taking responsibility of your knowledge or lack thereof is certainly a topic worth exploring!
Grand Admiral Nyan @ Biblio Nyan brings to the table an insightful discussion on gate-keeping cultural representation in fiction, and how prescriptive views of "authenticity" are harmful to diasporic identities. They tackle the topic so eloquently and sagely. I regret not being able to read Nyan's takes on the other prompts, but understand that life sometimes takes precedence and hope that everything's going well in that respect.
Infinite Zenith @ The Infinite Zenith examines the cases of two notable controversies in the anime community that I had not been aware of previously. A rationally delivered post and an interesting read.
Tanteikid94 @ BlazTavern's post is more of an elevator pitch for the workshop and on how they relate to it. It's short and sweet, and I appreciate both the participation and the promotion!
It's unlikely that I'll ever purchase a how-to book on being a force of positivity, but if it's by Scott @ Mechanical Anime Reviews, I will seriously consider. Scott's post reminds us that actors are real people rather than their characters – something that is too often forgotten in the crazy times in which we live.
Prompts:
Make your own critical writing checklist, or checklist for tackling controversial topics! What is your writing/blogging voice, based on it?
Nobody is (or should be) objective, but how biased do you think you are? What are some biases in your writing, and how do you try to challenge them?
When discussing subjects that are difficult or controversial, how do you strike a balance between presenting a fair picture of the issue and staying true to your views? Has your view ever changed as you wrote?
The geek problem: how do you reach the depth that you want to discuss in your writing without alienating your audience?
At the risk of sounding like an obsequious Scott fan, I am going to praise him again and say that Scott @ Mechanical Anime Reviews has one of the best themed blogs around. Check out how Scott makes niche anime genres accessible to his readers through consistently innovative post themes!
Aria @ The Animanga Spellbook gets introspective in this post on checking personal biases and maintaining a balanced perspective. I've come to appreciate the transparency in the content and style of Aria's writing, and it certainly works greatly in this kind of post!
Controversed has helped me discover that Jon Spencer @ Jon Spencer Reviews truly is a master of elegant checklists (you can find them in all of his Controversed posts!). I wrote at the end of my own critical writing checklist that writing advice is one of those things that's always given but rarely followed, but if you're going to follow any advice on effective discourse, this is a very good place to start.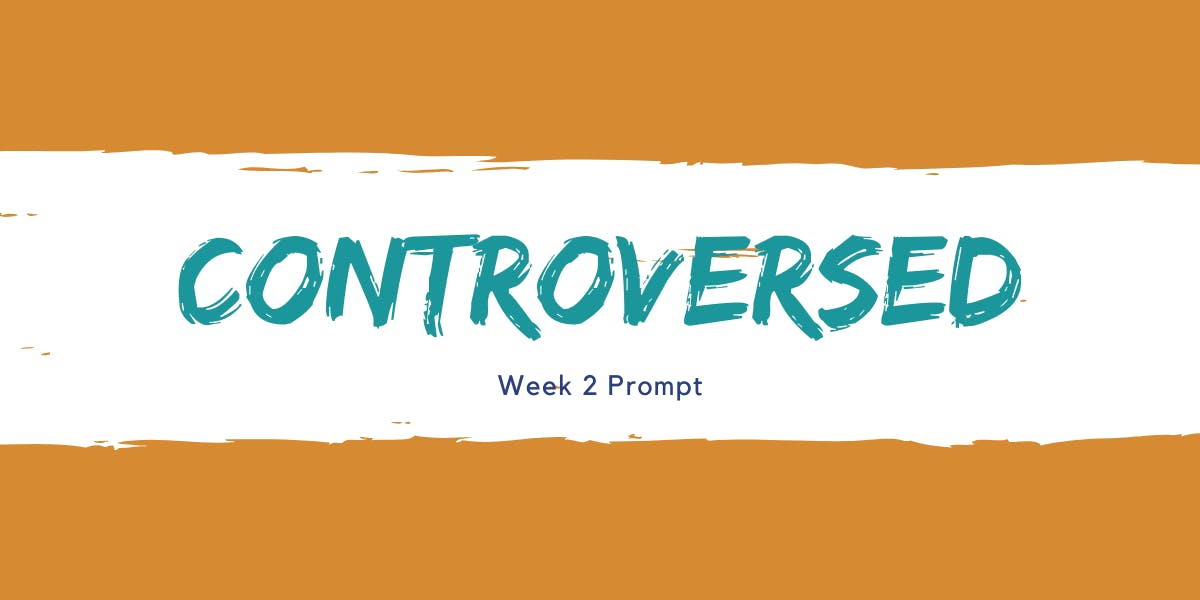 Everyone's favourite hotpot nabe-chan @ Geeknabe discusses the feelings she relies on when taking a stance on controversies, as well as why these discussions tend to be uncomfortable. Check out the post and remember to give her a heart (I just love that function on her blog)!
Oh K, what am I going to do without you? K @ K at the Movies not only manages to apply the pandemic procedures for requesting library books to his criticism checklist, but further discusses how a whimsical blogging voice can be leveraged in controversial contexts. It might be a little difficult to be K, but a writing voice that others find comfort in is certainly an enviable quality!
Infinite Zenith @ The Infinite Zenith goes all out on this one! Zenith uses a Twitter debate on an order of operations math problem as an example of how he approaches controversies and develops a consistent argument. It's a surprisingly entertaining post, and a part of me wishes that the people on Twitter got to see it.
Prompts:
Try analyzing a piece of media using a critical theory that you like! Feel free to use ones that weren't mentioned above, or combine any of them to your liking (e.g. Marxist feminism, eco-colonial theory).
"All art is political" vs. "let people like what they like!" appear to be opposite ends of the same controversy, and both takes have the potential to be highly egregious. What is your take?
Check out this Stack Exchange post: Why isn't anime critically analyzed like other forms of literature or entertainment? Do you agree with this observation? What are some of your thoughts?
This was really Aria's week. Aria @ The Animanga Spellbook argues against the Stack Exchange post by bringing in her experiences with academic anime criticism, in addition to introducing places where such criticism can be found. When you get published in a cool journal one day, Aria, please remember to share your work with us!
K @ K at the Movies strikes again with a double post this time (Pt. 2 can be found here)! He dials of the challenge of analyzing an anime using a critical theory by examining two anime films through eight different critical lenses. Even if you aren't the type to nerd out over critical theories, I'm sure you'll find great enjoyment in the wonderfully creative graphics he used to represent each micro-analysis.
Reading this post made me regret the fact that I haven't seen the anime, but maybe that will change. Scott @ Mechanical Anime Reviews flexes his English student muscles here with his reading of the sociopolitical implications of Deca-Dence's world setting and story developments. Beware of spoilers if you haven't finished the show!
Jon Spencer @ Jon Spencer Reviews takes on the challenging "all art is political" debate and parses it down to the difficulty of agreeing upon definitions. He further responds to the Stack Exchange post with insightful reasons for anime's relative lack of academic attention. Another great read that elicited some nice discussions in the comments!
Infinite Zenith @ The Infinite Zenith returns to challenge himself with a serious examination of existentialism in the anime Sora no Woto. He addresses the limitations of using a single theory to interpret an entire series, and posits that the anime in fact leaves room for other forms of hope.
Prompts:
Do you have a blog/video comment horror story? If you get a chance to interact with the same commenter again, would it go differently?
How do you manage your comment sections, and how would you describe your comment-writing voice?
Everyone gets worn out by controversial debates online. How do you fight the fatigue?
Rose @ Wretched and Divine joins the workshop with her accessible and intuitive take on critical comments on her blog. Rose reminds us that in managing comments, we're not merely responsible for maintaining a safe space for discussion, but must also take our own mental health into account!
Jon Spencer @ Jon Spencer Reviews is back with his signature checklists! This time, he offers insight into moderating comment sections from the informed perspective of a marketing expert, as well as his process of deciding whether/how to engage in debates online. I'll say here that Jon is someone I regularly discuss anime with thanks to #anitwitwatches, and I'm not sure I can find many others I can have as much fun disagreeing with!
Scott @ Mechanical Anime Reviews is back with a fairly relatable post on dealing with blog comments and staying out of cyclical debates. I love Scott's humble and positive approach to critical comments. We as bloggers are only human, and so are (most of) our commenters!
Props to Infinite Zenith @ The Infinite Zenith for the alliterative title. Zenith is one person who took up my challenge of talking about a horror story related to comments on a blog post, albeit on a different platform. Such stories aren't happy, but one can always take something away from them nonetheless.
Closing Remarks
I sincerely enjoyed reading all the posts and writing about my thoughts on them above, and I hope this showcase was able to shed light on some of the amazing work being done around the community.
You may have noticed that this post was titled "Controversed Showcase: 2020 November." Does that mean that there will be more Controversed in the future? My answer right now is "no, not in the foreseeable future," although if people enjoy themed months and community projects such as this, perhaps the format can eventually be brought back. Any feedback is very welcome in the comment sections or Contact page (including criticism, of course!).
For those of you who were planning to write something but couldn't make the deadline, feel free to do so anyway at your convenience! I appreciate any effort at keeping the #Controversed hashtag alive for a while longer, and would still love to read and share your work.
Thank you all again for being such positive writers, readers, and community members, and until we meet again, happy blogging!